How to prepare for your tech role interview
06 Oct, 2023
4 mins
Preparing for an interview can be a daunting experience but, as always, the more prepared yo...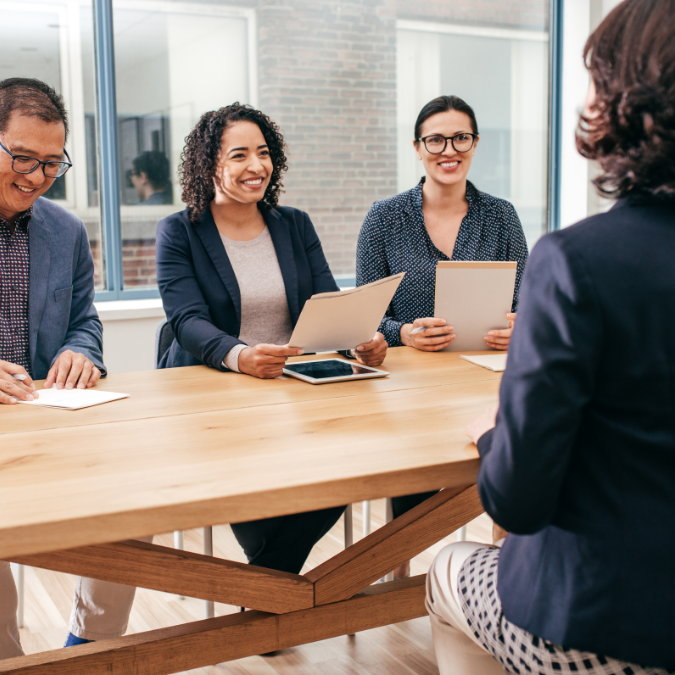 Preparing for an interview can be a daunting experience but, as always, the more prepared you can be going into an unknown scenario, the better equipped you'll be to deal with whatever is thrown at you. You will never be able to anticipate every question or scenario, but having a rough idea of what to expect will instil you with a sense a confidence which will likely shine through.
At Hamilton Barnes, our consultants help hundreds of candidates to prepare for interviews every week. They understand the challenges that come with technical hiring processes as well as knowing what employers are looking for. They share their insights below.
What questions should candidates expect at interview?
We often see candidates being caught off-guard by questions concerning the technological expertise they have listed on their CV. Candidates frequently include technologies that they are unable to speak about confidently, either because it was a long time ago, or owing to it being a team endeavour where their individual knowledge is limited.
Simply put, candidates need to be prepared to be questioned on any element of their application, whether from two or ten years ago. Interviewers may see a project and assume the person has the relevant expertise, only to discover that it was worked on as part of a large team and the candidate is unable to explain crucial aspects. If you cannot explain it, it shouldn't be included.
Applicants should use the term 'I' instead of 'we' in their application as much as possible, as employers want to know what you can do, not your previous team. Candidates should also be responding to any technical questions with real life examples that clearly state their involvement.
Many companies have also moved to automate their technical questions and tests, using software rather than a person to save resources. Some candidates are unwilling to go through these systems, meaning that employers may be missing talent by opting for an easier hiring process. If, however, candidates are happy to continue, they may find themselves up against less competition.
Interviewers are often eager to recognise hallmarks of a candidate's passion and enthusiasm for the subject matter. Such as completing accreditations in their own time or playing around with tech as a hobby. In Network Engineering, for example, we come across candidates who have built a lab environment at home where they practice pulling things apart and fixing them. This not only gives a candidate technical kudos but also demonstrates that this isn't simply a way to earn money; it's a passion that they enjoy and want to improve on. This attitude is gold dust for any employer.
What questions should a candidate ask?
It's important for a potential candidate to use an interview to nail down the specifics of the role in the first four to six weeks. Often job specifications will include a shopping list of a thousand and one technologies but, in reality, only a handful will be required regularly.
By digging into the motivations behind their hire, applicants will be able to uncover more detailed information as well as stimulate more tailored conversations, such as if they've been brought on board for a specific project. This will allow them to better illustrate how their skills match up.
How can candidates make themselves stand out?
Being able to demonstrate a willingness to learn will go a long way when applying for technical jobs. If a candidate can give parameters to their knowledge but also indicate areas where they are interested to learn more, it will show their propensity to growth better than claiming that they are all-round experts.
Research is the trump card for standing out in interview. Assume that all candidates have the technical expertise that you do – so how can you stand out? Focus on showcasing your knowledge of the company, for example by showing that you know what their corporate social responsibility policy is and their charity of choice for the month. Display yourself as someone who prepares properly with whatever additional details you can glean from diving deeper into the ethos of the company.
And a well written LinkedIn profile with a professional photo and recommendations shouldn't be overlooked. Whilst it may not tip the scales in favour of being interviewed, a poorly created one could act as a deterrent to an employer. A hiring manager's first reaction will be to search for a candidate, which may mean discovering mutual connections. That might give your application greater context and reputational value. So, make sure it matches your CV!
Is there anything candidates should avoid?
Avoid CV writing services at all costs! Candidates may be tempted to pay a service to make their CV unique but opposite will be true – they will receive a templated one, identical in format to hundreds of others.
In an initial interview, avoiding the subject of money is also preferable. If the first question that a candidate asks is about the pay it may paint them as too money driven. Of course, salary factors into any applicant's decision, but showing interest in the company is of a much greater priority.
If you need support in preparing for your next tech interview, career step or in finding your dream role in network engineering, get in touch with our team today.